Storycraft For Comics DIGITAL VERSION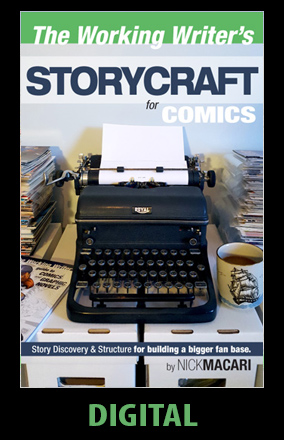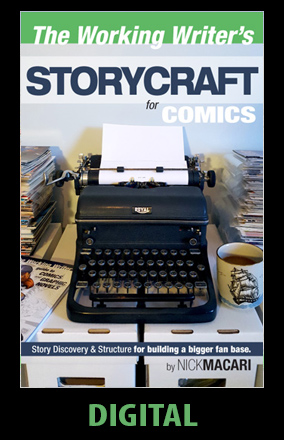 A one-time price of
$20.00
will be added to your order.
Since publishing this book, I went and finished the Robot Kids sample story structural outline, into a full-blown comprehensive outline. Members can find it here at StorytoScript, but I should include those pages in this download so it's all in one place for folks. (If any non members buy storycraft and want access to the outline, just shoot me an email. I'll remove this blurb when I update the book.)
This digital download PDF is broken up into a number of sections that reflect the natural progression of Discovering, Developing and Outlining a genuine story.
Storycraft for Comics discusses:
Understanding the process of creating a comic story AND your own personal goals for the story.
Where and how to begin developing a new story.
Key story elements and working through the discovery process.
A super-human, super-strength, 24 point outline for developing a genuine, rock-solid story THAT WILL build your fan base.
Format-specific considerations including a special simplified outline for one-shot comics and smaller stories.
Extra stuff like how to come up with names, what's in a story bible and more.
The Working Writer's Storycraft for Comics: Story Discovery and Structure for Building a Bigger Fan Base is a 145 page, all text PDF, assembled with design and layout in-mind.
Within the book, I focus on bringing one of my own concepts to life, from a meager initial vision to final outline. Beta-readers called this an "over-the-shoulder, one-on-one approach" to teaching (one they loved).
---
If you're interested in writing comics professionally, I don't know ANY books anywhere that give you more information, better information, or better prepare you for the task, than these two books. There are a few good books on creating comics on the market, but none of them are  as laser focused on writing as these two.  Storycraft and the Guide to Comics DON'T meander, they're NOT vague and they don't talk about art execution, comic history, publishing, or any other part of the industry. These books are 100% writing. Real world, well organized, easy to absorb and execute information to write professional level comic scripts—period.
Storycraft for Comics—everything you need to know to discover and outline your story.
Guide to Comics and Graphic Novels—everything you need to know to take your outline to successful script.