the Man Who Died Twice Victorian London Map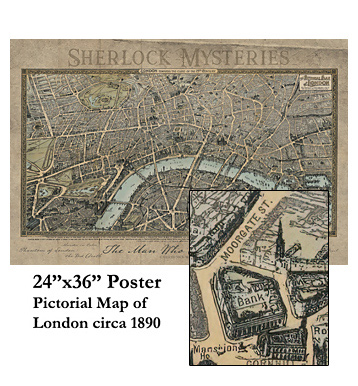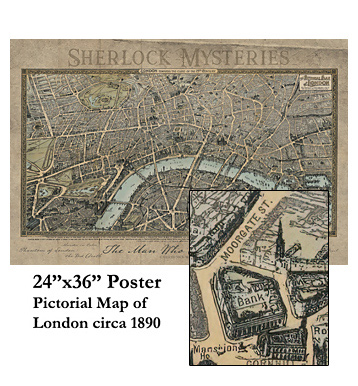 A one-time price of
$40.00
will be added to your order.
Period accurate pictorial map of Victorian London. This is a real map, from a map making company of the time.
The maps are here! And the printers did a great job, they look fantastic!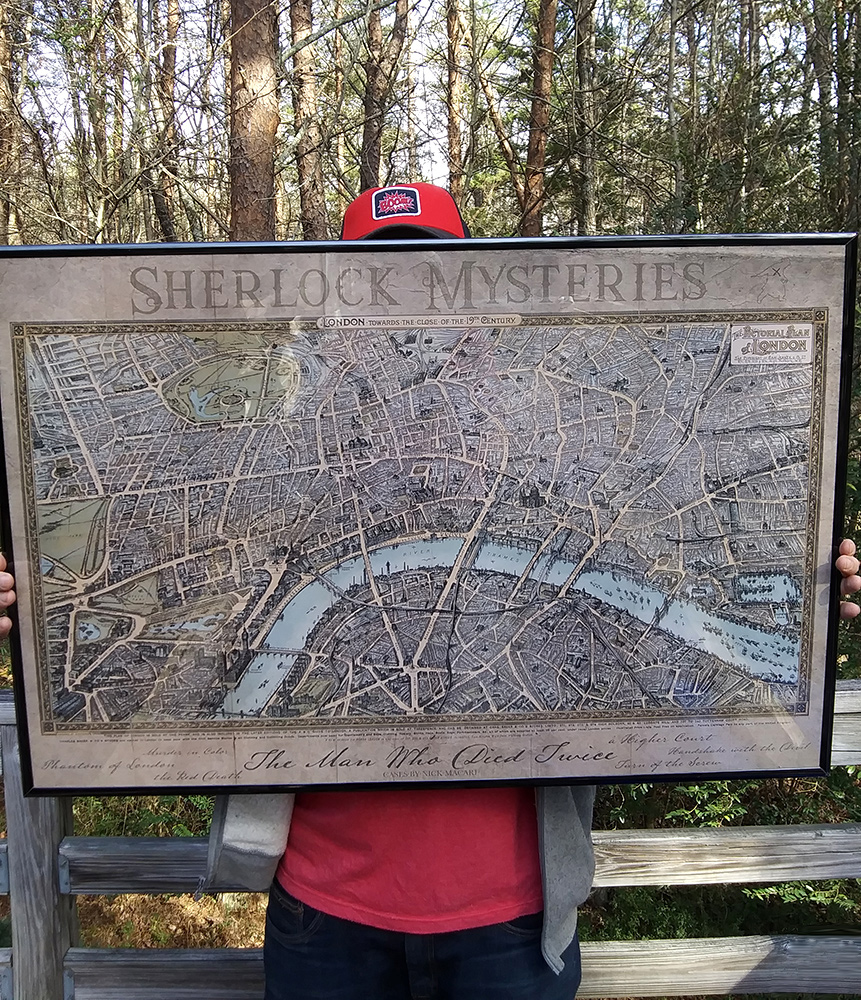 This is the map Nick used to develop the cases for the mobile app game. He has a version mounted behind glass and used dry erase markers to plot the cases, locations, and events of each case.
If you plan on playing through multiple cases of Sherlock Mysteries, OR just wish to have a cool historic art piece in yo' house, this is a great poster. 
Map ships rolled.
Does not include a frame.
The only other place I know to get the core version of this map is one shop on Etsy.
The Etsy version popped up the color saturation by about 25-50%. Our version, truer to the original art, has a more vintage authentic appearance. We also added a subtle vintage paper texture to the border.
We spent a ton of time retouching the major blemishes from the original art (inks spills, bad holes, etc.) The map still has character to capture its authentic feel, like the fold lines, but any imperfections that made parts of the map illegible are gone. The Etsy map still has some of those imperfections.
The Etsy version cropped off the text beneath the map where it talks about the cost of the map and some verbage about local merchandise for sale. We retain this authentic line.
Our map is cheaper than the Etsy store! 🙂

This map is 24x36 for easy framing. The Etsy store uses the original image proportions which require a custom frame 18x34. Custom framing is a fortune these days!

The Etsy store prints on a large format ink jet printer. Our maps were offset printed on premium matte paper. The same high quality you'd get with a commercial movie poster.
Lastly, the Sherlock Mystery title and the Case Names along the bottom are done in period fonts with subtle color selections. Instead of detracting from the map, they reinforce the Victorian era look and feel of the entire piece. So even if you just want the poster for the map itself and don't play the game or read the graphic novel, the branding on the poster won't get in the way.
If you're a fan of Victorian era London. You'll love this poster!