Crashing Eden - Novel DIGITAL VERSION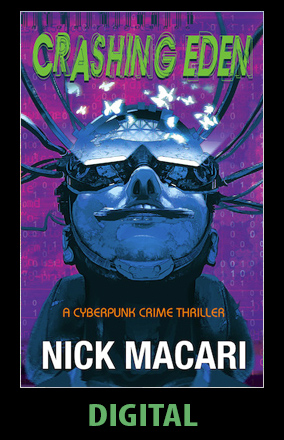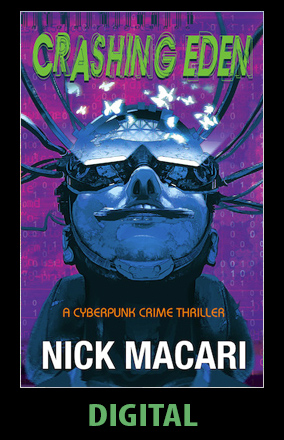 327 page Novel.
80,701 words.
DRM free Digital PDF download
Crashing Eden is an action crime thriller with noir and whodunit underpinnings.
Had a lot of fun with this story, from envisioning virtual environments, to creating my namesake, a Russian military antagonist computer program. While a complete and genuine narrative, I consider this novel a light, fast-paced read.  Exposition and backstory are minimal. The focus stays on classical cyberpunk elements and lots of action.
Once this story starts moving, it doesn't stop.
MILITARIZED POLICE FORCES.
CORPORATE UP-TECH SECURITY AGENTS.
MECHA REINFORCEMENTS.
SEARCH AND DESTROY A.I.
CYBERPUNK GANGS.
ONE FUTURE-DEAD HACKER.
and
AN INCREASING BODY COUNT.
Welcome to the future–a dystopian society created by a third world war, where the last of humanity lives in sectioned off city sectors. A future where the wealthy inner sectors inhabitants live in luxury, gaining access to genetic advancements that prolong life and a digital virtual network known as Eden, where humans who have reached their natural ends can download themselves into digital immortality.
For those in the outer sectors, life is bitter and unrelenting. Trying to survive on outdated technology and scraps from the old world. Their only hope, final escape through a government lottery granting not wealth, but access to Eden.
When Carr Callister, a young outer sector hacker accesses the wrong network, he suddenly finds himself losing time and perhaps, losing his mind. As sector police and Eden corporate detectives close in from every side, it's a race against time to put together the clues, figure out what he's gotten into and what the hell he can do about it. Desperately navigating the real and cyber world for answers, Carr learns firsthand both have become far more dangerous than he ever imagined.
If you're looking for a fast-paced classic cyberpunk thriller adventure fix, Crashing Eden's got you covered.
The above description of Crashing Eden is deliberately left a bit ambiguous. The best way to read it, is to experience as it unfolds, like the main character; in the dark and unsure.